I honestly thought I would never be able to cut back on shopping for my closet...little man Q changed that. No, I didn't have a huge epiphany that I needed to start saving money and prepare for his education (we do save for his education as well :) ). My shopping just shifted to buying the cutest, trendiest and most unique threads for Qaayam.
When we learned we were having a boy, I was over the moon with excitement. I always dreamed of having a little dude by my side. Then I started looking at baby boy clothes and I couldn't resist but wanting and needing everything for him. I had to maintain control of course (we live in a nasty expensive city), but I still wanted to enjoy those first time mama moments.
I started doing research and digging on local brands within Canada and more specifically in Vancouver and found a few that I've fallen in love with. On the flip side, I've found some darling pieces at big box stores like Zara, Old Navy and Joe Fresh. The style that suits Q the best is, basics with a touch of trend and most importantly, comfy and casual. Here are a few of my favorite brands I've come across.
(None of these brands in any way sponsored and I truly am sharing my opinion of brands we have grown to love).
Locally crafted in Vancouver, B.C., VONBON is not only the softest and most comfy feeling organic cotton I've ever felt, the designs are one of a kind. Quite honestly, I wish some of the items came in my size. This line is trendy, organic and the quality is on point! Best of all, their customer service is the best is the business. Jen and her team are friendly, personable, responsive and always willing to give suggestions on what pieces go well together. Every season brings new unique pieces added to the collection. I don't want this summer to end, but I can't wait to see what Jen comes up with for the Fall 2017 line.
Q is wearing the Chambray Sleeveless Romper from the SS17 collection.
Black and white, you can never go wrong. This is one of the first pieces I ordered online when I found out I was expecting. These swaddles are super gentle on your baby's skin, eco-conscious and have a variety of adorable prints. The are made with muslin cotton and I found them to be very breathable. I've used these swaddles since day 1 and still use them till this day. My favorite off the bat was the XOXO print.
Q is snuggled up in the ORGANIC COTTON MUSLIN SWADDLE BLANKET - XO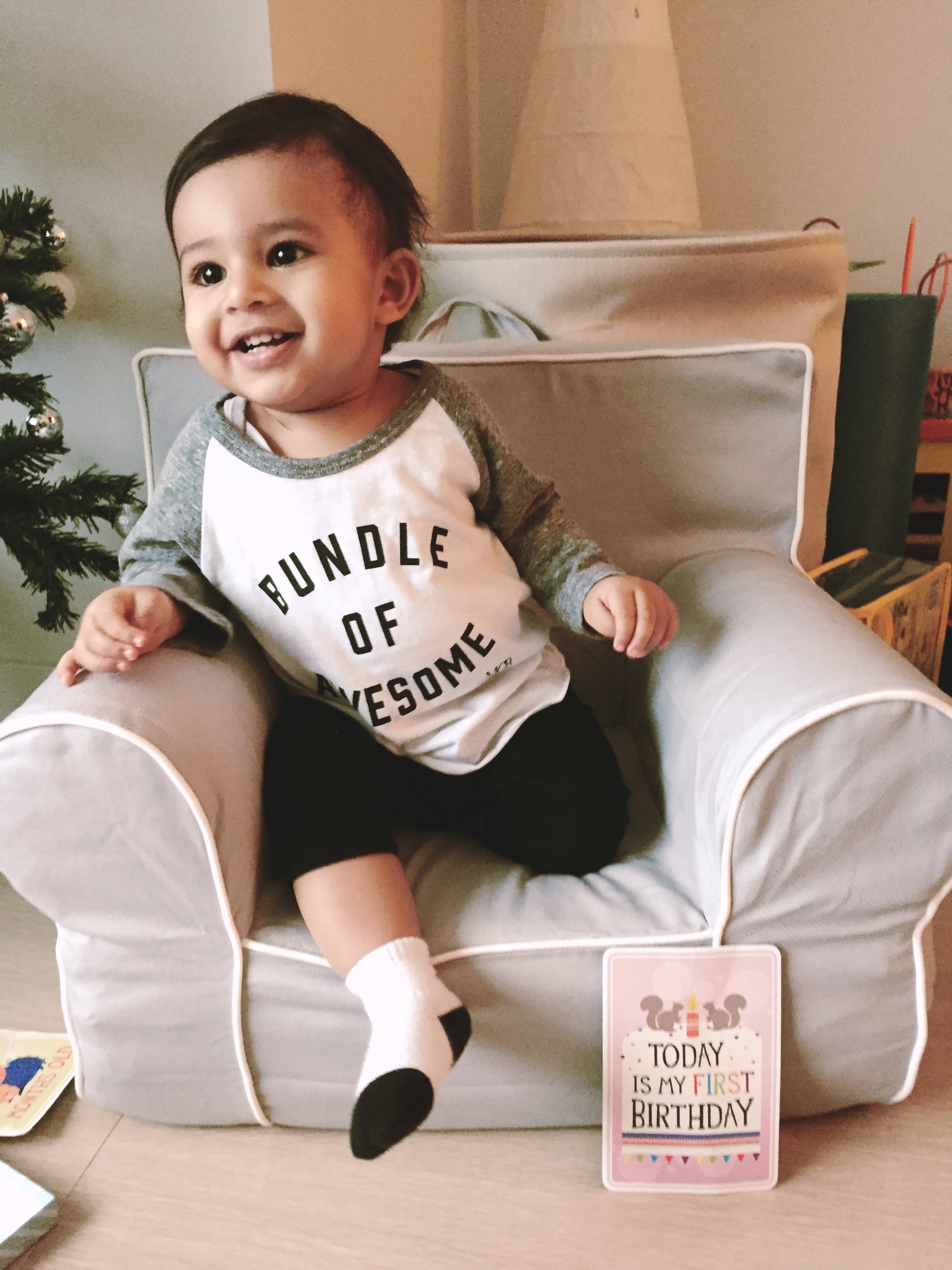 Two words to describe this brand, trendy and fabulous! Located in Vancouver, BC, My Cheeky Baby's line of apparel is so fun and stylish. I have a couple pieces from their line and my absolute favorite is a basic heather grey tee with powerful words that I raise my boy by, "In A World Where You Can Be Anything, Be Kind!" I met these guys at a local market and I remember standing at their booth for quite some time thinking, do I buy it all? They have great everyday wear that is super fashionable, and they also sell apparel for adults!
Q is wearing My Cheeky Baby's "Bundle of Awesome" Raglan Shirt
I was first introduced to Petunia and Buster when Q got a pair of their harem pants for his 1st birthday from one of my closest friends. Local brand from Vancouver, B.C., their patterns are unique and fun and easy to wear. The most recent SS17 collection has by far the most lively patterns, including flamingos, anchors, sharks, waves and palm leaves. Easily paired with with a basic solid tee or tank and you're set for summer. Can't wait see what they come out with for the fall.
Q is wearing Petunia and Buster's Stone and Steel Harem Leggings.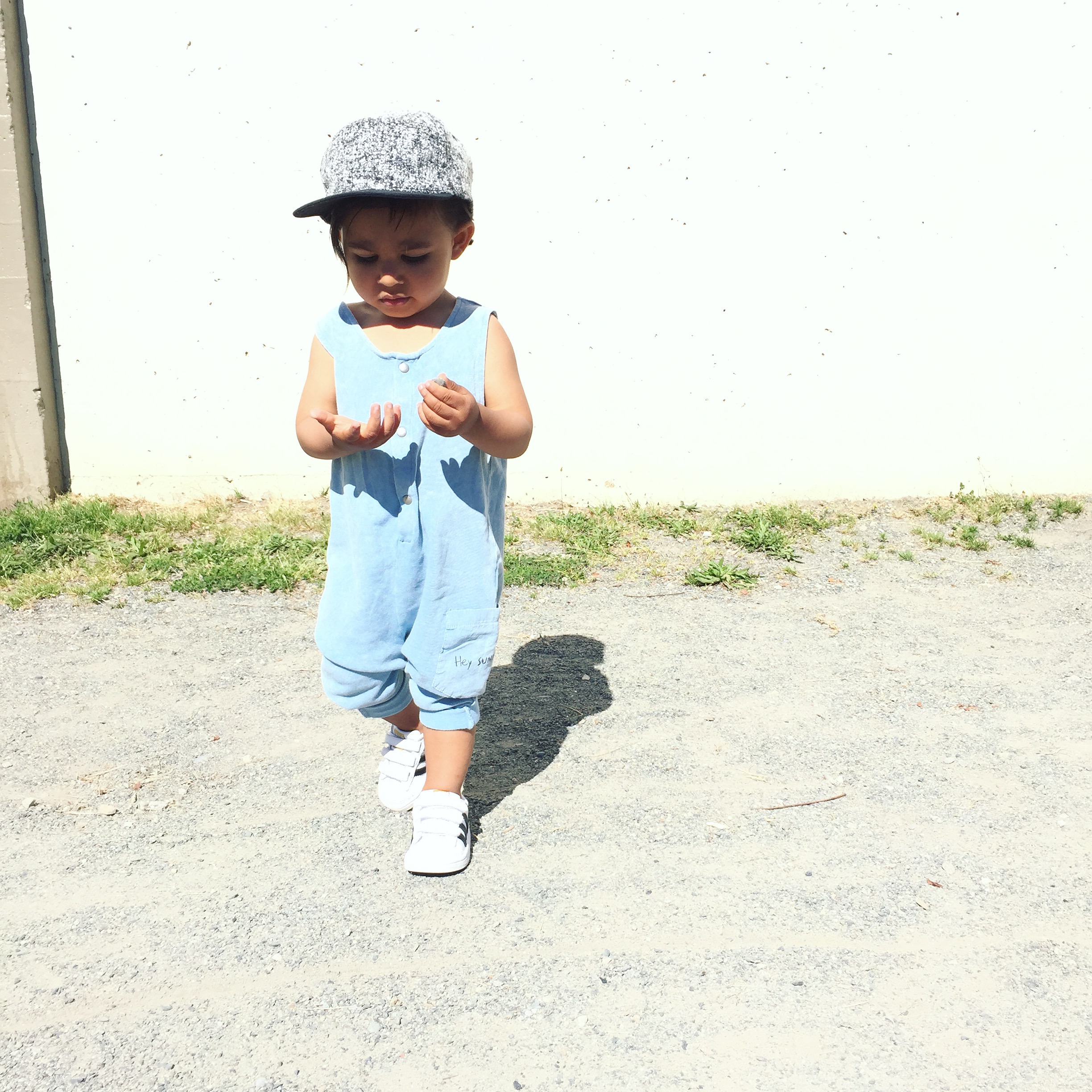 I'm a big fan of Zara, so when I knew I was finally going to be able to shop in their kids section I was thrilled! I will say, their girls selection is much larger, but the items they have for boys are the most trendy and hip from a big box store. First off, their all season basic t's and shirts are my go to. With every season, they offer a variety of colors in their basic tops and I'm able to pair them so nicely with the unique threads I get from the local brands. Another favorite, their trousers, they have a variety of them which offer solid colors, or if you're into loud patterns, you can grab those too. I always round down a size as their clothes tend to run bigger. So for Q, who is 18 months, if I want him to be able to wear something now, I tend to get 12-18 months and sometimes even 9-12 months. Something to keep in mind when shopping their clothes.
Q is wearing Zara Romper in Sky Blue from the Summer 17 collection.